Bathroom remodeling is one of the most common practices in the world. The reason for this is that bathroom stylization keeps on changing according to the latest trends and fashion. So, to stay in touch with trendy styles, people consider bathroom remodeling an option to upgrade their household beauty.
But nowadays, it has become relatively difficult to choose an efficient company. Because most of the companies that provide bathroom remodel services cannot stay faithful to their promises. Here are a few tips to guide you toward an efficient bathroom remodeling agency for satisfactory results.
Research, More Research and Information Collection:-
The internet has made the world a tiny cocoon where all the information is available with a single click. You can easily access different websites to gather all the relative information about other companies and even compare them. Random selection without prior knowledge will only push you to regret it later. It is better to have all essential inputs, such as reputation, testimonials, and ratings, checked before selecting the one.
Recommendations of your friends, neighbors and relatives who have recently undergone a bathroom remodeling project can be used too.
Check their License and Legal Certification:-
The agency you select for your bathroom remodeling service must have proper legal documentation. It is a vital check to ensure that the servicing agency is not a fraud. Verified licenses and certifications also indicate that the company is well-versed in its work and meets industry standards.
Check their Insurance Policy:-
You must review the company's insurance policy before handing out the remodeling work. The company should be liable for accidents occurring during the remodeling process and should cover them under its insurance. This policy will help you to save unnecessary money and harassment in the future.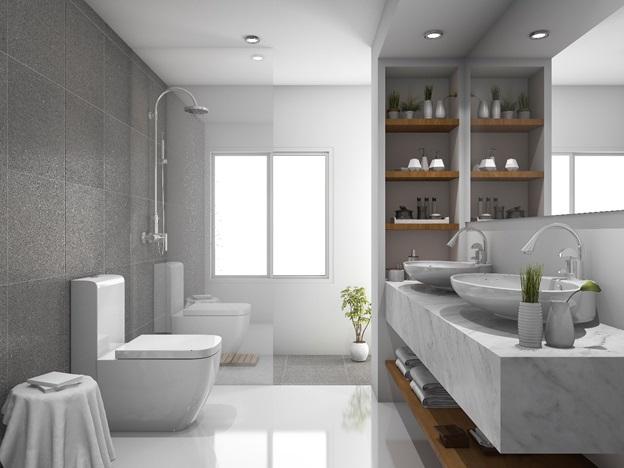 Check their Level of Expertise:-
A company's expertise level can only be judged by its past projects and remodeling services. You should choose a company that boosts a great portfolio and volume of past work. It will ensure you of the company's quality of work and style. Similar to the remodeling project case, the more the company's expertise, the better the remodeling work would be.
Check their Customer Service:-
Communication always remains a vital aspect of any project-related work. You must check the company's customer support capabilities. Having strong customer support during the remodeling process is crucial because you might need urgent changes. The company support staff must be flexible to note and work on your sudden changes without delay.
Check their Quotation and Contract Details:-
You must check that the quotation charged by the remodeling agency matches the work quality and timeline. Insane pricing and hidden charges should be discussed beforehand to avoid any confusion in the future.
The bathroom remodeling process is tiresome and lengthy, so every detail in the contract should be studied carefully. Deselect agencies that provide half-baked quotations of their work and hide terms and conditions from their clients.
Final Thoughts
These were some of the tips that are shared in this article. Using these tips, you can easily choose an efficient bathroom remodeling service agency and enjoy a hygienic bathroom environment. " Guilin Cabinets" is one such company that is making strides in ensuring its clients a wonderful bathroom remodeling experience.
The company is introducing premium packages at minimal rates so that a maximum number of clients can afford their services. You can easily access their service by visiting their website or contacting them.